I'm poppin' in real quick to say hi, remind you about the giveaway from
Kitty Cats and Airplanes
, and to participate in nigh owl craftings Who are you? link up.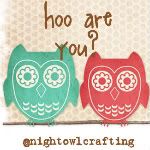 1. Are you fond of cooking? I prefer baking over cooking. I don't really like to cook but it helps to try new meals to keep me from getting bored.
2. What kind of food do you prefer eating when you are out? I just love to eat out and it doesn't matter what we eat. We don't eat out often so I love anything from Mexican, Italian, Steak, to Pizza.
3. Which do you prefer, sweet or salty? I LOVE sweet! I don't use salt very often.
4. Where is the last place you ate out at? We just went to Olive Garden
5. What's for dinner tonight? I'm on vacation so my mom is cooking! Not sure what.