I've missed answering all of the fun questions at Night Owl Craft. It is such a fun way to get to know other bloggers. If you haven't joined in you really should because I'd love to get to know you better as well.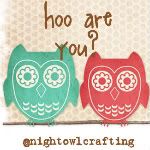 1. Do you wear glasses or contacts, if so for how long?
neither but I think I need some
2. What was your favorite board game as a kid?
I remember playing Sorry a lot
3. What is a word that you use all the time?
I use the word "random" probably way to much. That and "No"
4. What is your favorite day of the week?
I really like Fridays. Even though I don't work it is still makes me excited for the weekend.
5. Did you graduate high school from the town you grew up in?
Well I moved when I was 8 so I feel like I grew up there.
I hope to be back in a little bit with a fun new project. I'm adding the finishing touches.